A cousin of tennis, Padel is booming in France and has become the favorite pastime of many recently retired footballers or employees of professional clubs. This Tuesday, in Nice, some of them collided during the Challenge Ball. A tournament won by a couple who were complicit a few years ago…
After Christophe "Poussin" Meslin in 2018 and Serge Blanc in 2019, Olivier Monterrubio won the third edition of the Challenge Ball tennis tournament at the Nice Lawn Tennis Club on Tuesday. A few minutes after the former player of Nantes, Rennes or Lorient picked up the racket promised to the winner, the big winners of the tournament came forward to applaud. They will be the first to put their name on the tournament list in the "padel" category, a novelty.
"We had to launch it because they are all addicted to padel. They also like tennis, but padel is very accessible in practice, we are moving very fast and they are all rolled in," agrees Franck Triviaux, l tournament organizer. "Didier Deschamps is somewhat the forerunner of the discipline. Many football players meet on the Côte d'Azur to play there, we had very fierce matches today." If some had saved themselves by concentrating on one discipline, such as Benjamin Nivet, Louis Saha (tennis) or Eric Roy (padel), others registered themselves on both tables at the risk of physical fishing, such as Mickaël Marsiglia, ex-player of Cannes and OM , or more in bone Sylvain Wiltord, impulsive, alternating between clay and plastic.
The Squillaci-Givet pair big winner
At the end of the day, it was the duo Sébastien Squillaci-Gaël Givet that won the final. The former AS Monaco central hinge is used to playing together. "It was Gaël one day who offered me to play a game and I was hooked right away, says the first. It's a sport where you have fun fast, have great times. I just play that more, I play I don't play football two or three times a week anymore."
Eliminated from the group stage of the tennis tournament, Gaël Givet had more success at the second table. "Tennis is much more tiring and traumatic, the Arles resident admits. I used to be a tennis player, but since I discovered padel, I practically play just that. Toto (Squillaci) had never played tennis before and he's doing well in padel, it's easier to learn." The stakeholder continues: "It's more fun and we keep the collective side."
Ex-Toulouse player and coach, delighted with Téfécé's rise in the elite, Dominique Arribagé had made the choice to focus on the biggest racket. "After I stopped my career I started playing tennis. For those who handle the racket there is a certain ease with padel that immediately becomes very playful. It is smaller in size, it requires less technique and we have fun very quickly. once we understand how to play with the windows, it gives us very good sensations."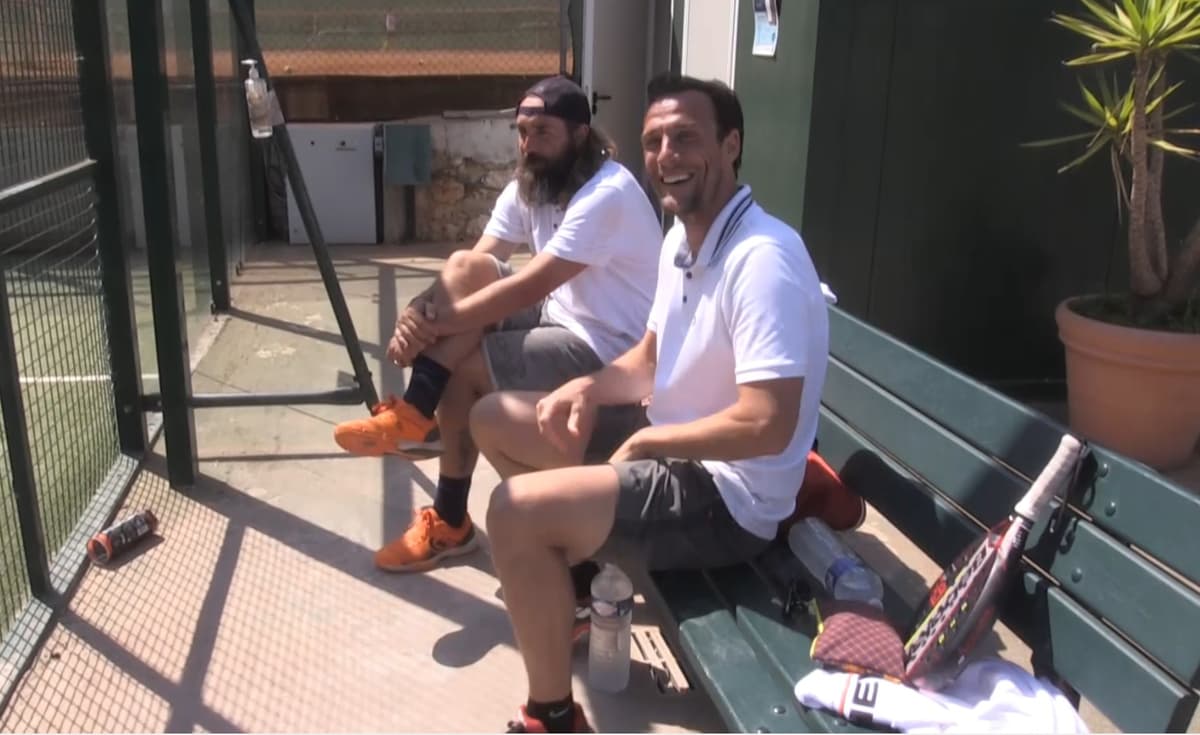 From players to club makers
So much so that the current Amazon Prime adviser plans to open a club at home, in the Pink City. "There are already three big clubs in Toulouse, but there is room for others because it works very well for us. We are close to Spain, there it is the second national sport," explains Arribagé. Sébastien Squillaci noticed it during his time at Sevilla FC (2008-2010): "They had been playing there for years when I arrived. In the residences in Spain, when we build a few tennis courts in France, they build padel courts, young people are already playing there very early.
The discipline gap between neighboring countries remains large, but is narrowing. "It explodes in France", the former international (23 caps) notes. "On the Côte d'Azur it is difficult to reserve places, they are often full. I think it is a company that can be interesting." It is also there that Gaël will launch Givet which has a length on the project of Dominique Arribagé. "I have settled in Arles and the permit has been submitted to set up my padel club, we hope to start work so that the club can open its doors in eight or ten months. There is a craze, but it is mainly that I am there I want a club with my vision with kindness, even if there is a competitive spirit, because we start a competition to win him." With even more hours of practice, the former Monegasque double will be hard to dislodge in the next edition.