EXCLUDED RMC SPORT – With a Premier League trophy in his luggage, Aymeric Laporte headed to Agen, his hometown, on Friday, where a stadium now bears his name. On this occasion, the Manchester City Spain international took a look at his season, his future and La Roja.
RMC Sport: You told your family that your career forced you to make choices. But your tires are in Agen?
Aymeric Laporte: I have my whole family here, it's already a big opportunity. I've spent more than half my life here. I was born here, it all started here. I like to go back to basics.
Having a stadium named after him is unreal, isn't it?
Yes, they are levels to cross, shall we say. I am glad that the town hall of Agen has thought of that. I didn't expect it, but I'm happy to receive it. Happy to enjoy with my family and all the public.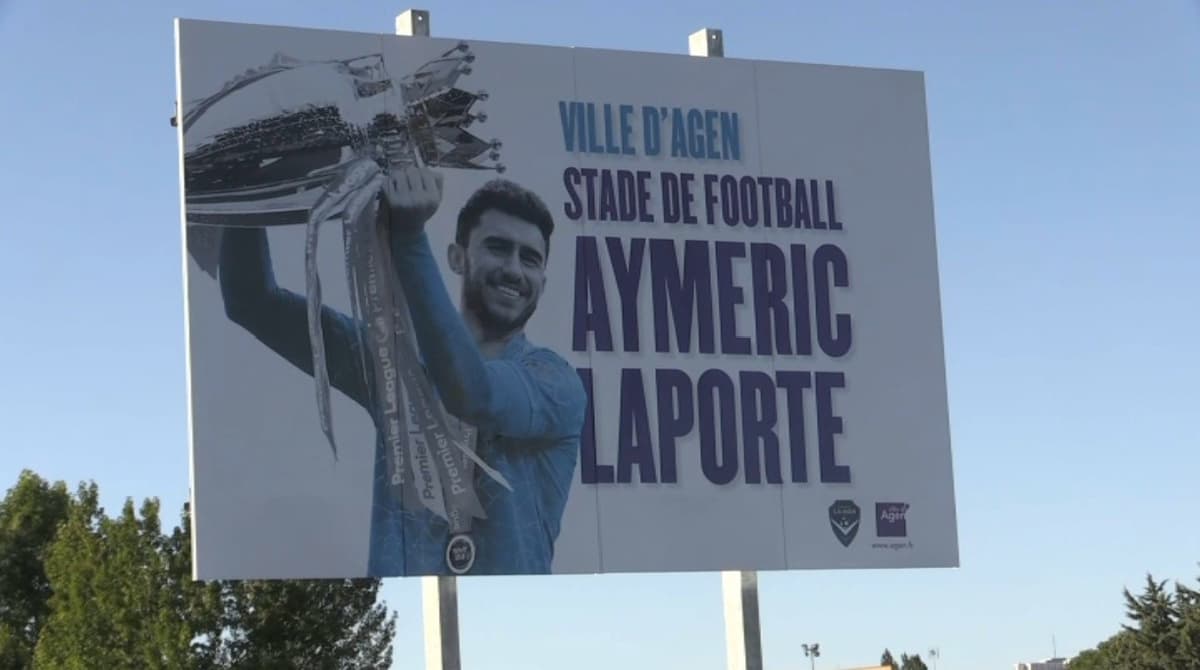 'I still have three years of contract, I'm happy'
Speaking of the sportsman, you are coming off a successful season on a personal level with a fourth Premier League title in five seasons at Manchester City…
Four league trophies yes, but that's a total of eleven. It's not just the Premier League. It's very good for the club and for me. I'm happy to help people here too by bringing the Premier League trophy. It never happened. So I'm super happy with this season that I've had, despite an injury at the end of the season. I could hold it to the end.
You feel fulfilled at Manchester City. Are you staying there next season?
Yes, I am super happy and fit. The squad too. There remains only the common goal, the Champions League, but we will do everything we can this year to achieve it.
This Champions League… Does the incredible elimination against Real Madrid in the semi-final still haunt you?
We have it in mind, but it will help us win it, improve, improve our end of the match and realize how hard it is to win this competition. I hope we will do better this year and win.
You said Manchester was your future. But do you ever see yourself playing in Ligue 1?
That is not the goal for now. I still have a three-year contract. I am happy and so is the club. I played many minutes: I am the central defender who had the most. I am a reference and I am very happy that the coach and Manchester City have confidence in me. So why not keep going.
Speaking of Ligue 1, is Christophe Galtier's appointment as Paris Saint-Germain coach credible in England?
Every coach is credible to join PSG or a major European team. There is always a trick, something to watch out for. We, as City, have to keep an eye on our performance and nobody can beat us.
A returning opponent of City, in spite of everything, is Paris. Was it a surprise for you to see Kylian Mbappe stay at PSG?
It was a surprise to everyone, I think. As a player, we don't follow the transfer window too much. We are aware, but we will analyze the opponents in every match.
Deschamps and the Blues, "it's a thing of the past"
You, supporter of the Girondins since childhood, how do you live the situation of Bordeaux?
It is pathetic. I have also shown my support this year on the networks for the Girondins. It is a legendary club in Ligue 1 and my club since childhood. I am quite touched by what has happened. But that's football. I only hope one thing is that they return to the front of the podium in France, but also in Europe.
To talk about the French team, you faced Zinedine Zidane as coach of Real Madrid. How would you view his appointment as head of the Blues if that happened? Would you regret not playing for France under Zidane?
Yes, that would have been good… He's a person I appreciate on a human level. As a coach we have seen his results… There is nothing to say, he is very strong. He also brought a lot to France as a player. The quality he had, it was magic… These are very good memories for me and for my family. I wish him the best for his next steps.
But it's still Didier Deschamps at the head of the Blues. What does this mean to you? Regret, regret?
It's from the past.
"Gavi, doing what he does at 17, I've never seen that before"
How do you feel in the Spanish selection, semi-finalist of the European Championship?
Very good. Spain welcomes players very well, it's a great mentality. The players are very young. I'm almost already one of the veterans of the group. I'm trying to help them, and they're trying to help me too.
There are young people like Gavi… Is it a phenomenon for you?
He's magical, he's great. Doing what he does at seventeen, I've never seen that. At that age I went to the training center very young to kick a ball without thinking that one day I would play in the national team. He imposed himself. He is thorough. It's very good for him and for the team.
What are Spain's goals at the World Cup, where they are in a difficult group (Germany, Japan, Costa Rica)?
Like all big countries: get as far as possible, through the group stage. In football you never know what can happen like losing against the worst and winning against the best. We will see.
It's very hypothetical, but would meeting France at the World Cup excite or make you nervous?
It has already happened in the League of Nations. It's true it does something, but you have to stay professional. Football remains a game that we play every day. I'd rather think about the game rather than the feelings. This will be the most important.
How are you perceived by the media and the Spanish public?
Very good. We've had some really good matches and that helps a lot.
In this transfer window, Manchester City mainly recruited Erling Haaland and Julian Alvarez…
We've made good recruits. Haaland will bring us space, speed and impact in the attack. Something we have missed in recent years, because we played without a striker with Pep's style of play. It gets much better and we hope for more titles.
Can Haaland adapt to Guardiola's style? Some doubt it…
No idea. But people speak without knowing it.
Finally, Benzema Ballon d'Or, is that your opinion?
Yes, I think Benzema deserves it. He has been delivering great performances for years. He deserves it.
Interview by Aurélien Tiercin